The Laurels of Huber Heights - A Skilled Nursing & Rehabilitation Center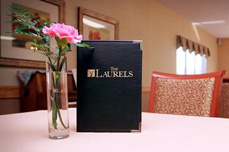 The Laurels of Huber Heights is 100 bed skilled nursing and rehabilitation center serving Huber Heights and Northern Montgomery County. Our location provides easy access - less than a mile from Interstate 70. The Laurels of Huber Heights has been recognized as a five star facility by the United States Centers for Medicare and Medicaid Services. This is the highest rating possible.
As the premiere short-term rehabilitation facility in our area, we create individualized nursing and therapy plans to quickly return our rehab guests home so they can safely resume normal, active lives. We also offer compassionate respite and hospice care.
Longer-term guests with physical or cognitive limitations enjoy our wide array of activities and social events, from special live entertainment to the inclusion of their families in our holiday celebrations.
Our team of professionals is dedicated to providing a quality of life that is comfortable along with comprehensive health care services. Exceeding the expectations of those we serve is The Laurel Way of Caring; it's our philosophy, and our mission at The Laurels of Huber Heights.